Say WHAT?
Michael Ausiello on TVline reports that, yes, a community favorite and Camp babylove series is indeed seeking a crew for what is now just an MTV exec concept for an adaptation — and a real appetite ruiner. Or perhaps not? What do you think would make it a good series? How could we possibly follow the travails of (assumedly) one town dealing with a serial killer, or -ers, in a way that would be teen-y and not terribly annoying? Would it simply be a rip-off of other weekly, soapy mystery soaps… or a fresh outing into a television surprise?
Also, when did Michael Ausiello leave Entertainment Weekly!? Now who's gonna dish me my Veronica Mars spoilers with a vibrant edge?
Ideally, it's not like AMC's The Killing, or something, where we follow one crime at length. It's not like CSI, and it ain't no Murder She Wrote.
One thing's for sure: it definitely and sadly won't be like the late-90′s part of the film series, but more like the recent, super-peppy Scream 4. If MTV is spearheading this magoo, you can bet they'll rake in a gamut – to state it lightly – of hot bodies ripe for the ripping from various other current series and tabloids. I feel like it'll be almost hard to look at it, like, the lighting will be too flattering and gauze-y and everyone'll look like a mannequin: Gossip Girl-ettes getting hanged from the rafters, Pretty Little Liar ladies fleeing in terror (I think one of them already accomplished that in Scream 4, which kinda pounds this point home). Not ideal, but surely messy fun, like American Horror Story without the blenderizing of a million subplots.
"Yeah, tryna replace us, betchez? Dream on."
What we can hope for, as we hopefully hope, is that Scream: TV could be some kind of ultimate melodrama about town slashings. A real saga about one girl's torment during a Sidney Prescott-esque situation: the ensemble supporting cast, and the emotional baggage and creative slaying sequences that come along with it. Harper's Island, but without daddyhunk Richard Burgi.
Oh, sudden tangent… Who will play the daddyhunks on this show? Gotta be at least two. My money's on, unfortunately, Matt LeBlanc. I feel like someone like him would get cast here and make us all really, really angry. That Courteney Cox and her damn connections! But we can pray for a post-Californication (you know it's gonna happen) David Duchovny, or a hot young "new dad on the block" a la Hugh Dancy.
Guh. Stay home, Gale.
We'll follow the story as it unravels, or is possibly debunked. But now, for fun, imagine if these slutty happenings came to a station near you (or don't):
I'll Never Stop Knowing What You Did Last Summer And If You Think Otherwise For Even a Hot Second I Will Rape You Where You Stand In Those Tiny Pleather Boots, on the CW, Mondays at 9.
CAST: Emily Browning, Amber Heard, Camilla Belle as the deaf, dumb, and blind girl, Shawnee Smith as Drunk Mom, and Mischa Barton as somebody's fat aunt.
PREMISE: Julie James and Helen Shivers' little sisters (who they forgot to mention in the movies) enter Small Fishing Town High to encounter her family's nemesis: Hookhanded Fisherman.
MOST CREATIVE DEATH: In the pilot, a cheerleader is drowned in a large lobster tank.
Elisabeth Reaser as Free Spirit Mom on FOX's Swimfan: F.F.
Swimfan: Frisbee Fucker, FOX Fridays at 8 (the reject slot).
CAST: Hailee Steinfeld, Dave Franco as Jock, with Elisabeth Reaser, and in a special two-episode arc, Chloe Grace Moretz, playing Kiki's blast-from-the-past friend from their mental institution days — and she astounds everyone on set.
PREMISE: Madison Bell's little sister Kiki Bell – Steinfeld in her first role post-True Grit, proving she's not just a cowgirl - escapes from the mental institution (where she was during the movie), kills some identical girl, takes her identity and wreaks havoc on boys' sports teams. But this time, it ain't swimmers she's after — it's the frisbee golf boys.
MOST CREATIVE DEATH: Three episodes in, Kiki screws a substitute teacher and then – bam! – straight through the neck with a humorously oversized pencil. Sharpened to kill.
Rosemary's Dumpster Baby, Wednesdays at 10, only on ABC.
CAST: AnnaLynne McCord, Selena Gomez, Ali Lohan, with Alexa Vega as too-hot-to-handle Marguerite, and Brenda Song as Landlady's Daughter.
PREMISE: The vomitworthy remake series 90210's McCord brings us a stunning portrayal as Stella, a trailer trash recent grad who just wants to leave her prom night dumpster baby days behind and peacefully move into her first collegiate apartment building. Unfortunately, the building (and its Landlady's Daughter) has sinister occurrences in mind, as Stella's world becomes a Polanski nightmare she will never forget… She's gonna have one. more. bebby.
MOST CREATIVE DEATH: The first season finale sees Gomez meeting pavement. Lohan looks on — she knows she's next.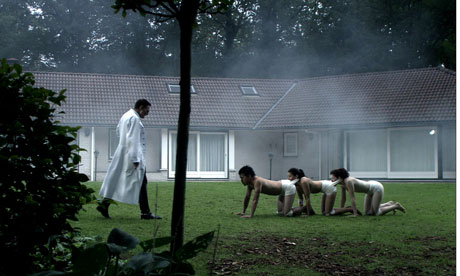 The Family Centipede, 2:00 AM on the Sundance Channel, only on full moon nights.
CAST: The entire cast of Glee, plus Anna Kendrick. She was sold on the five-second pitch alone.
PREMISE: Ass to mouth. Ass to mouth!
MOST CREATIVE DEATH: I'm sorry. We'll stop.
Share on Facebook
Related posts: