Over the weekend, in between grabbing brunch at Home and grabbing a shirt with my boyfriend at Steven Alan Outpost, we noticed something funny about all the The Last Exorcism posters.
They had been vandalized … but not in a way that is normally associated with defacement. As we kept walking around Los Feliz, onto Hollywood Blvd, and into Franklin Village, we started to notice that ALL The Last Exorcism ads were vandalized to be a little bit more … chipper?
Take a look at what we saw, after the jump!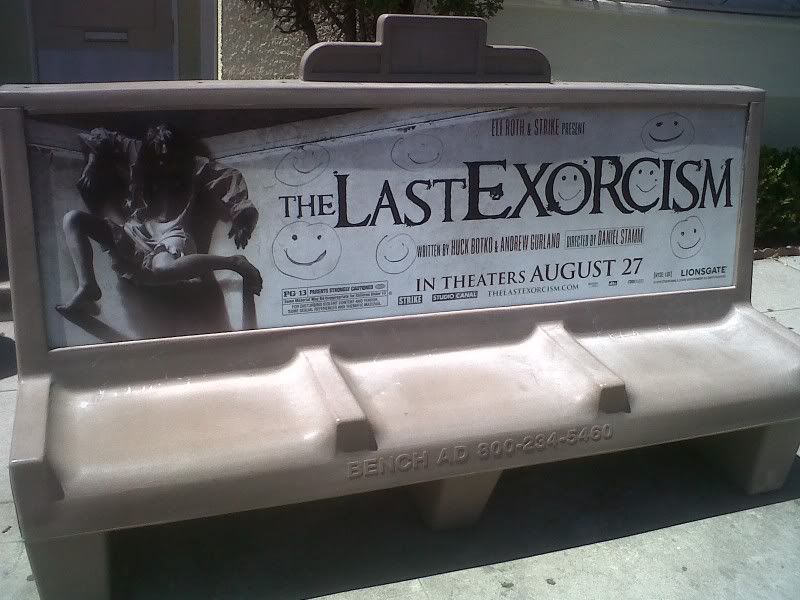 THEY WERE DEFACED WITH FUCKING SMILEY FACES. How brilliant is that?! We saw them and literally LOL'd so much that I stopped my 2002 Volkswagen New Beetle, got out of it, walked into the street, and took a photo. Granted, we were already stoked to see this movie; but, a smiley face beautification treatment? Our asses are practically in our reserved Arclight seats!
Similarly, I was at a coffee shop yesterday, writing this article, when I noticed a peculiar tear sheet ad for an … exorcist? Yes: an exorcist. Once I finished LOLLIN', I snatched it up and took a closer look. Sure enough, it was a sneaky, low-rent advertising campaign for The Last Exorcist.
It looks like we can throw the smiley face vandal and the "IN NEED OF AN EXORCISM?" campaign into the basket, along with the ChatRoulette, Cotton Marcus Twitter, and Church of St. Marks website as The Last Exorcist has stolen the 2010 title of Best Ad Campaign by a Horror Item (previously held by True Blood).
Share on Facebook
Related posts: