There are very few things that I get excited about. I get excited about dogs, I get excited about booze, and I get excited by men. Other than that, nothing is consistent enough at keeping my attention or satisfaction to be classified as "something that excites me."
Horror movies – a field I am very passionate about – more often than not don't get me very excited. The genre is a rapidly spinning revolving door of shit: sometimes the shit stinks, sometimes the shit is good, but regardless of where it stands, there is usually too much of it to even begin smelling. That being said, I do a lot of research before I smell anything: I read reviews, I read fan pages, I hound artwork, and I talk to my peers about it. If something sounds good, I dive in large-nose-first.
The Scream trilogy is something that I never needed help with. I willingly ran toward theaters to see these films. From its 1996 beginning to its seeming end in 2000, I was there front-in-line, ready to watch. For me and many of my peers, the Scream movies were the series that defined our generation and was a movie watching experience unlike any other. We experienced a rare, "meta" moment in movie history where the horror and comedy fields converged to both be deadly serious at the same time. Horror history was at the core of these movies and recruited many new fans, rebooted a dying genre, created a brand new parodic genre, and spawned a new generation of people who would grow up to create movies and characters as varied as Shaun of the Dead and Juno.
These movies were monumental to us all: new and old horror fans gathered around to camp out both literally and figuratively around these films. And, when Scream 4 was announced, we all did the same thing… but with a large dose of skepticism.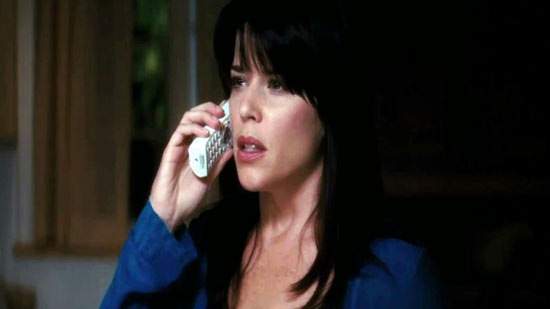 I, for one, steered clear of anything related to the film: I wanted to enter the movie theatre as close to a virgin as possible to the idea of the new movie. Besides knowing the cast and basic logline, I didn't watch any full trailers, I didn't read any reviews, and I definitely didn't poke around for spoilers. I wanted to replicate my 1996 experience. I wanted this film to be new for me and make me remember why seeing a horror movie is so fun.
Was this accomplished? Well, to put it bluntly, hell fucking yes it was.
I cannot even begin to suitably laud this film and, honestly, I don't even know where to begin. For those of you who follow me on Twitter, you already know how I feel about this and will likely find this to be an expansion of my thoughts from Friday night. For those of you who don't follow me, sit back and relax – then get up and buy a ticket to see this film.
The film is about the Ghostface Killer coming back and murdering off high school students in Woodsboro in light of Sidney Prescott's return back to her hometown for a book tour (which coincides with an unfavorable anniversary). We have a whole new cast of characters (including Emma Roberts, Hayden Panettiere, Rory Culkin, Adam Brody, Marley Shelton, Allison Brie, Anna Paquin, and Kristen Bell) mashed together with the remaining old characters (Neve Campbell, David Arquette, and Courtney Cox), who come together to create something brand new while being very, very, very inline with the existing saga of films. We all know the formula, we all know the characters (for better or worse), and the filmmakers know exactly what to do with them.
The movie is surprisingly well-acted, with particular kudos to new kids Roberts, Brie, Shelton (DUHHH), and Panettiere, who is at her least annoying. As for the old folks, it's a pleasure to see Arquette, Cox, and Campell – all actors rarely seen on the big screen anymore – settling right back into their familiar roles with ease. Arquette is still the same old Dewey, but with more power, and Cox is the same old Gale, but with more plastic (an almost laughable amount).
Campbell really is the most surprising, giving her best performance ever as a wise, empowered, not-at-all-whiney version of Sidney, something that she SHOULD have been in part three. She also looks FABULOUS.
Like Sidney the character, the movie is also wise and empowered and full to the brim with humor it mines both from itself and from the current state of horror. There is a brilliant monologue at the top of the film that I remember laughing hysterically at because it was dead-on. To that, the whole intro into the film is one of the best that I have ever seen, both horrific and hysterical (but mostly hysterical). It sets a great "party" tone for the film and, for someone who saw it at 8:30PM in Hollywood with 2,384,791,720,823,987,465,234 homosexuals in the audience, it was the perfect atmosphere to Scream.
The movie then barrels forward, playing with past conventions and adding new ones forced upon the fabric of the film by technology – but it marries the two flawlessly. You have many red herrings and many DUHHH moments, but also a lot of pleasant surprises. I jumped once or twice, but that jumping was quickly met with laughter: I was my ten-year-old self watching that movie. I wasn't curmudgeonly and jaded and as blasé as I am in real life – I was excited, happy, laughing, and engaged with the film. I can't even remember when the last time that happened to me in a movie theatre.
For me, the movie wasn't about the plot of this film or what exactly even "happened": it was about how this film fits in with what happened previously, which – if you have watched all the other movies and are a real fan of them – is likely to be something truly absurd. With a fourth entry into the series, where you've had murders who were all fame-obsessed someones all out for revenge, you have to understand that the ending will be ridiculous. And, as trivial as it sounds to focus on the ending, the ending of these are crucial and very, very precious. I was impressed, but not surprised, with what happened. I applaud Wes Craven and Kevin Williamson, who saved face for having made My Soul To Take and Vampire Diaries, respectively.
I may be a bit of a rambling man, but I can't even express how much I loved this movie: it was smart, it was funny, and it was succinct. It knew where the heart of a fourth – and NEW – film would be and it stabbed away. I regard these movies as old friends: they are few and far-between, but the meetings we do have are always a gas. And, duh, I plan on seeing this again in theaters, something that I have only done with Final Destination, Joy Ride, and Drag Me To Hell.
I am happy to say I am pleasantly surprised with #SCRE4M and excited/in love with the idea of a part five. I say bring it on, Craven and Williamson: WHAT YOUS GOT?? This was – and is – my generation's Star Wars moment: no other film series has had as much as an impact on modern film (well, horror, comedy, and horror/comedy) as this movie has. I'm just lucky that Craven/Williamson's afterbirth was not as shitty as Lucas' afterbirth (because, y'all – that was some S-H-I-T.).
Remember, this is a horror movie in 2011. It isn't the seventies and it isn't Argento. It isn't the eighties and it isn't Jason Voorhees. It isn't the nineties, but it is Scream. Modern horror is inundated with Saw-types and J-Horror and other oddities – but that type of horror is stinky shit. Scream 4 and what (I hope) it inspires is shit that don't stink: that shit is top of the line.
RATING (OUT OF 5):
Scream 4 is rated R for many, many stabbings, no titties (but references to titties), making you scream, and NO GOLDEN RETRIEVERS
, etc.
PS. From my predictions of what would happen, only six and a half of the fourteen predictions came true. And, as for my drinking game? You will only have to drink (approximately) twenty times. But, of course, that does not include all recurrences of the Recurring Drinks category.
Share on Facebook
Related posts: