The first, first, first tippy-top thing I worried about upon confirmation of the remake's green light, and then at the release of the trailer, was – oh, no, this isn't going to be gay at all…
The original Fright Night was one of those seductive, subtextual mainstream horrors in the mid- and early-'80s slyly capitalizing on Amurrica's fears of an emerging homosexual disease (no, not Stephen Geoffreys). Naturally, it made for an interesting, quirky midnight movie two parts cheese, one part comedy, and four parts gory horror with plenty of vampy jokes and an enjoyably awful nightclub scene. Directed by Tom Holland, who later gave us Child's Play, we all know the original Night is a tough act to follow.
But goodness came in the form of the casting of its leading vampire (in a moment) and Anton Yelchin, one of my favorite adorkably hot "upcoming actors," even though he's had at least four breakout films by now, including a frigging Terminator. Like Daniel Radcliffe, he may be stuck playing troubled young men well into menopause. Yelchin's freckles, frog voice, cheekiness, and just all-around collegiate fuckability makes him a perfect Charley Brewster, the cute but distracted virgin, in my homo opinion.
Think about it – they could've taken this revamp to a whole new level of stink. I'm talking the lows of Zac Efron or someone equally castrated. That'd be putrid. Fortunately for us, in this 2011 remake from Craig Gillespie (who, along with this film's writer Marti Noxon, is taking on fanboy-anticipated Pride and Prejudice and Zombies!), glossiness is not attempted. It isn't pretty, in a great way.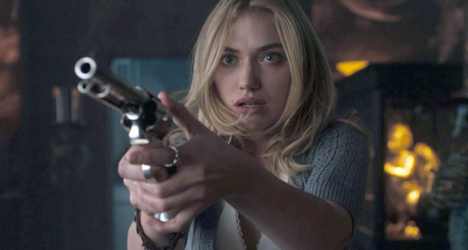 The opening credits sequence immediately sets a refreshing calm for all those itching for a good show: it's a roller-coaster ride birdview swoop over a foggy Las Vegas condo complex at dusk with a lovely funereal organ score. This beginning says much of what you need to know. It's a very modern teen horror with a distinct love for the oldies. Fright Night '85 is gone but not quickly forgotten.
After a surprisingly disturbing random-teen-in-peril teaser, we meet Charley and girlfriend and douchebag friends, standard intro hooplah. But whereas the original started with Charley's next-door distractions of the new vamp hunk in town, the remake opts for a slower burn. Amy (UK import vixen Imogen Poots) is a dirty-hot hipster, no longer the uptight kitten character originated by Amanda Bearse; Evil Ed (the overexposed Christopher Mintz-Plasse) is now a totally deserted ex-pal, not just a losery sidekick; and Charley's got a whole new bag of friends, including lesser Franco brother Dave and some tall babyfaced alt kid.
The pacing does take a punch, sadly, seeing as how the Charley-thinks-his-hot-neighbor-sucks-necks staple moment clocks in around the forty-minute mark. This minor upset is overshadowed by nearly everything else, like the Chris Sarandon cameo, but particularly…
Colin Farrell, bless his Irish soul and Daredevil-era sex video, is a piece of steaming white chocolate here. I don't know who threw his name into the pool for the role of Jerry, as opposed to say, Liev Schreiber (can you imagine!?), but whoever chose Farrell done good. He's like Chef Boyardee, or that hurricane-ready SpaghettiO's can on your buns-on burner: hot and beefy. When we meet him, he's fixing Charley's mom's (Toni Collette) overgrown shrubbery – you just know Muriel doesn't tame it like she should. Collette, usually wonderful, is sadly underused, aside from one bloody staking.
One thing about this Fright Night that may not sit well with viewers is the odd injection of overt comedy. It's hit-and-miss, due largely in part to the weak joke writing for David Tennant's revamped Peter Vincent character, a Criss Angel of sorts. He could've struck gold, but unfortunately, he just looks and sounds, sadly, like Russell Brand. A dull inclusion of his family's history with the neckbiters doesn't help at all – this character's a disappointment. His sassy Spanish partner (Sandra Vergara), though, makes for a fun new addition.
Snarky up-to-date vamp references, Gillespie's fun no-holds-barred visual stylings, and the hard-teated Irishman make this Night a brooding, videogame-ready, intimately personal action-horror pic for fans of the original and for modern bloodhounds. By "personal," I mean there are parts where you truly feel like you're there with Charley and co; this is one movie where, yes, I think the 3-D actually works. Several minutes of the total 120 should have been trimmed, but overall it's a satisfying, confident trip, especially as remakes go. And luckily for us, it's also quite a fairy tale (wait for the pool scene)!
For more vampire fun in the name of October moons, check out the Disney Channel Original Movie Mom's Got a Date with a Vampire, which steals almost every Fright Night and Lost Boys trope and stars my fat, old dog, Caroline Rhea.
RATING (OUT OF 5):
Fright Night is Rated R for thematic elements, True Blood-inspired body explosions, Farrell's stuffed jeans, and a stripper named Doris.
Share on Facebook
Related posts: